hi all,
didnt get a chance to post yesterday as we were busy checking out garage doors, the guy we went down to was a nutter, i couldnt understand a word he said, had a real strong tipperary accent.
Brought the gift basket up to my friend and she absolutely loved it, she wanted to know where I bought it..lol told her i had made it and she was over the moon, kept hugging me..lol. It was so weird to see them both with a baby they have moved on a bit further in their life now and that feels a bit strange but we will get there eventually. He is such an adorable little boy and they look soooo happy, I'm delighted for them. I have to stay with her on Wednesday night cos her hubby has to go away for work, she told me that Dean is waking every 2 and a half hours so that should be fun!!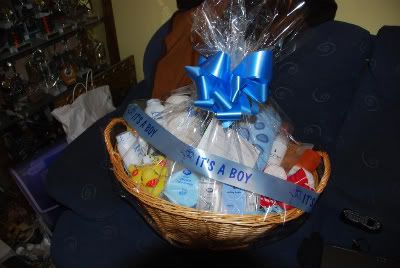 My car is going for the NCT today so hopefully it will pass and I can sell it on and get the new car on the road. Not much else planned for the day, have to work from 3-6pm back to the grindstone after last week off for the midterm, but xmas is coming and I'm getting excited. Not sure if I will fit in any crafty work today as I have to prepare myself for the classes on Wednesday we are starting xmas cards!!